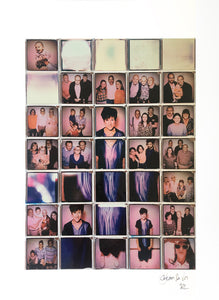 Polaroid Portrait Mosaic
Tax included. Shipping calculated at checkout.
Why not suprise your partner, mother, friend or retiring colleague with a fun photoshoot and let them feel the shining star of the day? The ideal present. We'll have a joyful afternoon while I photograph each of you in small groups of friends, colleagues or family while you provide drinks and ambience.

✨ Ideal to celebrate a friend's birthday, or a colleague who is retiring, or else you might like to surprise your parents with a super original family portrait.
✨The group portrait is delivered as a physical Polaroid assemblage, signed by yours truly and ready to hang.
👉🏼 60x80cm
Loose & atmospheric photos
Up to 60 people
Up to 2 hours
A selection of the very best pictures in digital resolution
A real life Polaroid Collage for you to offer as the final present

👉🏼 Prices include taxes (21%)
👉🏼 Transportation fee €0,50/km + taxes not included

👉🏼 You might want to buy my book as a lovely warm up The Eyes of the Fox
👉🏼 Visit my website for more inspiration carmendevos.com or contact me via the e-mail link on the bottom of this site